By using mobile phone application "Putevi Srbije" you can in the simplest way plan your trip, get information on toll prices, weather conditions, traffic regime modifications and other important information.
The application "Putevi Srbije" is available for mobile phones, laptops, and tablets with android platform, and is completely free of charge.
The application "Putevi Srbije" is available in Serbian and English languages.
Application front page contains nine options which provides you with desired information in a short, simple and precise mannere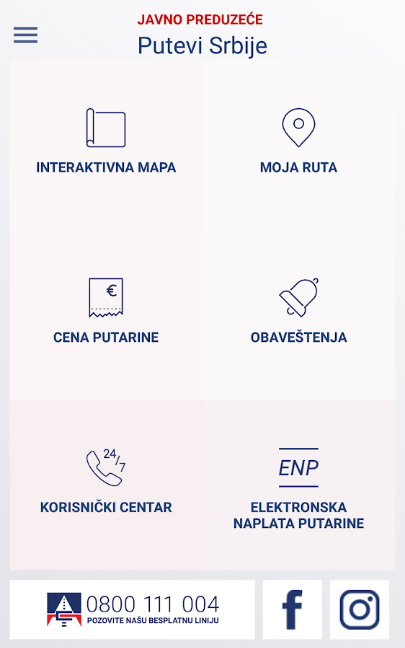 1. Roads – by using interactive map you can get informed on road conditions and traffic restrictions, road works, ban on traffic movement, adverse weather conditions and toll station markings, border crossing, police cameras and radar control on the roads in Serbia, eventual landslides, rockfalls, black spots, and on existing gas stations and parking lots shown on the map.
2. My route – calculate shortest route by simply entering place of departure and place of destination, along with additional information on road condition
3. Toll – calculate toll prices for desired road route and vehicle category
4. Announcements – here you can get informed on all important news and announcements (road works, waiting on toll stations,…)
5. Service reminders – enables users to track expenses and keep records on servicing their own vehicles
6. Weather forecast – information on weather condition for the period of three days in advance is available for all towns and cities in Serbia
7. Important phone numbers – traffic participants can make a phone call directly from application by dialing certain important phone number (Police, Fire department, Ambulance, AMSS – roadside assistance, Meteorological data, International information and the PE "Roads of Serbia")
8. Notifications – enables marking of town or city you want to be notified about
9. Settings