Work in progress
Look of the future complex
There are ongoing works on construction of complex of toll station "Vrčin" and road maintenance depot on the I A Category state road No. 1 (motorway E-75), section Belgrade – Niš on km 605+635. 
Construction works on "Vrčin" front toll station complex and road maintenance depot on the I A Category state road no. 1 (motorway E-75), section Belgrade – Niš at km 605+635 commenced On 24th March 2016, in the presence of Acting Director of the PE "Roads of Serbia" Zoran Drobnjak, BCE, contractors' representative and Director of "Strabag", Dragan Pavelić , and numerous media representatives. 
Construction design for front toll station Vrčin and road maintenance depot anticipates front toll station complex to be located south of the existing interchange Vrčin at the chainage 605+635, in accordance with the spatial plan for the infrastructural corridor of the I A Category state road no. 1 (motorway E-75), section Belgrade -  Niš.  Relocation of the existing "Bubanj Potok" toll station complex to new location is also anticipated because of the crossing of  Belgrade Bypass and the I A Category state road no. 1 (motorway E-75).   Construction of grade separated interchange which enables crossing of two significant roadways such as Belgrade Bypass and the I A Category state road (motorway E-75) is planned to be conducted on the location of the existing toll station.
The Consortium consisting of "STRABAG" DOO Beograd, AD "VOJVODINAPUT" Pančevo and PZP "ZAJEČAR" was elected as the most favorable bidder for performance of construction works on "Vrčin" front toll station complex  and road maintenance depot.  The Contract was signed on 12th January 2016. Consortium contracted construction works on new front toll station complex "Vrčin" amounting RSD 2.095.241.098. Time for Completion of contracted works is scheduled to be 15th May 2017.  In addition to above mentioned bidders, the following subcontractors were also nominated: "Institut Mihajlo Pupin" doo Beograd for works on installation of video surveillance and managing toll station systems;  "Via Projekt" doo Beograd and "Mašinoprojekt Kopring" ad Beograd for preparation of design documentation. 
Professional supervision of construction of "Vrčin" front toll station will be performed by group of the following bidders: "ŠIDPROJEKT" DOO Šid, "CENTRALNA PUTNA LABORATORIJA" DOO i "GEOPANONIJA" OD.  
During preparation of the technical documentation for the "Vrčin" front toll station complex the final appearance of traffic plateau was influenced by necessities relating number of traffic lanes and islands in the tolling zone, resulted from analysis of data on traffic load on the existing toll station "Bubanj Potok" during peak months (July and August), land contour, marginal construction, ground properties and other ground conditions which had to be taken into account.  Based on the previously mentioned factors traffic plateau of the front toll station complex and road maintenance depot are anticipated to be widened from motorway profile to the total width of 130.20m. 
The first stage includes four traffic lanes for the future toll station with their complete furnishing. Traffic lanes are located on the rightmost side of the future traffic plateau seen from the direction from Belgrade towards Niš. After completion of construction of lanes, overall traffic will be directed to them, and the construction of the remaining lanes will be continued.   
Traffic plateau functions as toll collection system with traffic lanes and islands with booths and other necessary facilities, canopy, as well as administrative building located on the footbridge over the plateau. There is anticipated to be 23 traffic lanes and 22 islands on the traffic plateau. Exit zone (tolling) comprises a total of 17 traffic lanes, 3 of which are reversible. 
Parking lot for passenger vehicles (official parking lot), with 75 parking places, as well as parking lot for damaged vehicles with 17 parking places are placed beside traffic plateau.  
Road maintenance depot is located east of traffic plateau, with the access from direction of Niš, and is provided with standard facilities: administrative building with garage for passenger vehicles and warehouse, wash and salt storage, and truck garage.   Vehicles can approach/access parking lot from existing local road which is being reconstructed in the necessary length (of about 370m), because of the situational and levelling embedding into designed contents.   Design anticipate adjustment of the local roadway passing under the underpass, with changes on the underpass (it is extended to the west in the length of 8.60 m).

The facility for toll collection itself is intended for accommodation of personnel and equipment for toll collection activities on the motorway. This facility is anticipated to be located on the footbridge above traffic lanes and toll booths. Total length of facility canopy is app. 119.3m, and it is 20.04.m wide. Structure of the facility is made of steel with façade coating made of thermoisolated panels. Office space is planned to be located in the central part of the facility in three cubes, two of them being 24,40 m long, while the central cube is 42,40m long and 11m wide. All three cubes are interconnected with corridors with dimensions 2.7 x 4.9 m. The minimum clear height between asphalt level and the lower edge of the canopy structure is 4.8m. Pedestrian communication between employees is anticipated to be performed on the pedestrian footbridge along the entire length of the toll plaza, i.e. canopy length. Vertical communication with booths and islands is anticipated to be realized with a total of four steel stairs and one passenger elevator.  Conveyer belt for transportation of bulky / office/ material to warehouse is planned to be placed along pedestrian communication.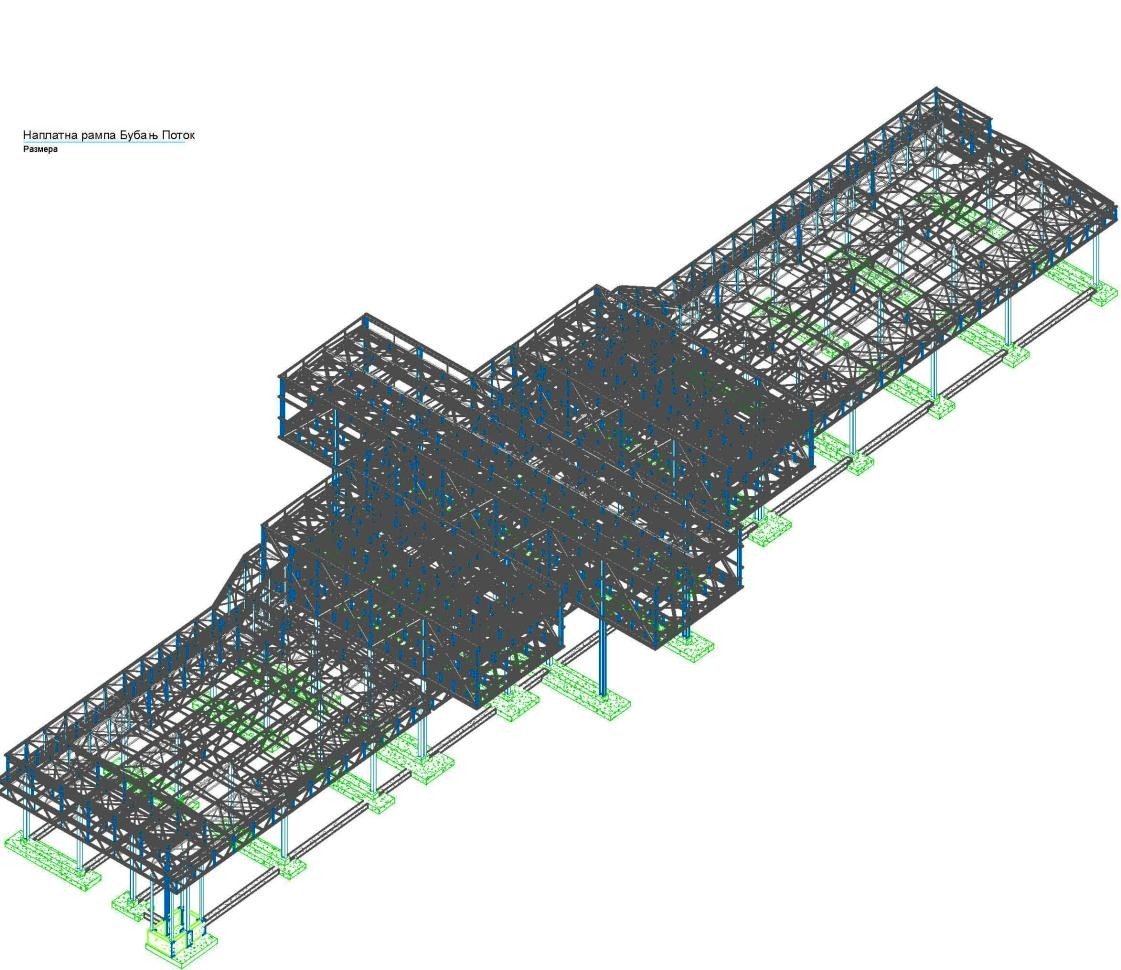 Construction of the traffic plateau, besides standard designing challenges, necessitated additional requirements:
- Protection and relocation of main pipeline channel alignment Makiš - Mladenovac ø1200, in the length of 330 m
- Relocation of alignment Bezimen potok in the length of 700 m. Dimension of new regulated riverbed basis is  3,0m, with bank slopes of 1:1,5, digging depth of 6,0m and over 15,0m wide channel crown. Riverbed regulation is made of stone in concrete.  
- Crossing of alignments of Bezimen potok and main pipeline Makiš – Mladenovac. Crossing is performed by grade separation of main pipeline, i.e. change in longitudinal grade of the main pipeline segment, and projected to pass under Bezimen potok riverbed and partially under the traffic plateau itself. 
- Connection of gas distribution pipeline to the existing main gas pipeline. A total length of service gas line is app. 558m and is partially located under the central reserve, parking lots, sidewalk and internal roads. 
- Reconstruction of the existing underpass at  km 605+965.80, including removal of the existing and construction of new carriageway deck for accommodation and conveyance of applicable traffic load, V600+V300. Besides reconstruction of the existing underpass, its extension from the existing 26.2 m to 35.0 m is anticipated, too.
In addition to previously mentioned construction works on the construction of the front toll station, other works are worth of mentioning, too, owing to the fact that without them toll station could not function properly, and these works include illumination and video surveillance of the new structure, electric power supply and marking with traffic signage and equipment of new profile.
Electricity supply system of the front toll station complex necessitates construction of new power station, and as a fallback in case of power outage backup electrical generator powered by diesel fuel which starts automatically, as well as UPS devices, are anticipated to be installed. In order to save energy the outer illumination of the entire complex is anticipated to be realized by placement of lamps with LED light source.  
Monitoring of traffic and other activities in the zone of front toll station complex and road maintenance depot necessitates installation of totally 70 cameras in HD ready resolution. Out of 70 cameras, 50 will be installed on the traffic plateau, and the remaining 20 in the zone of the road maintenance depot. Cameras are provided, in addition to high resolution, with ability of providing high quality snapshots even in total darkness.
In accordance with today's trends in energy efficiency and conservation, heating/cooling complex is managed by two-pipe fan coil – convertor ("fan coil") with working mode 50/45oC (during winter) and 7/12oC (during summer). For heating/cooling of the administrative building wall fan coil units are anticipated, while the ceiling –mounted / cassette fan coil units will be used in toll booths.  Temperature regulation is local – regulated for each premise separately, while summer/winter switching is central.
Applied solutions in traffic signage contribute to traffic calming on the approach zone of the front toll station, aiming at safer traffic flow and in low visibility conditions.  Design comprises road markings, standard traffic signs, information signs, signs for tolling facilities, technical assets for traffic calming on the roads (rumble strips), a protective barrier for vehicles and crash cushions. Designed signage provides traffic participants with information on approaching the front toll station; traffic flow is being channeled; it organizes passing of vehicles without long delays and increases safety of personnel in charge of toll collection.  In addition to standard traffic signs provided with retroreflective material class III, special (non-standard) traffic signs, i.e. LED-informative displays with "caption" and LED-informative displays with changeable symbols will be applied.
Finally, it is important to say that all construction works on front toll station "Vrčin" and road maintenance depot are financed from the funds of the PE "Roads of Serbia" and because of their complexity, short deadline for performance and execution of works under traffic, they will as such be a challenge for the Contractor, and professional supervision representatives and Employer as well. Considering expertise and capacity of the persons involved in construction of such a complex facility, this task is assumed to be successfully fulfilled. After the completion of works the capacity of the front toll station "Vrčin" is anticipated to be significantly higher compared to the existing toll station «Bubanj Potok», thus neutralizing traffic congestions typical for summer months.   
Traffic regime:
Pursuant to the Traffic Design during the construction of the complex of frontal toll station Vrčin, traffic regime in the works zone will be in phases, depending on the progress of works.
In the period from 10.03.2017 until 31.03.2017, phase 8 is valid which includes the works for fitting in of the existing motorway profile into the future traffic profile of the frontal toll station complex. The works cover the remedy of pavement on the right lane from the direction of Belgrade towards Niš, reconstruction of underpass and construction of sewage and electricity installations.
Traffic from the direction Belgrade - Niš will be diverted from the right traffic lane into the left traffic lane through the new constructed emergency passage and further through the new constructed terminals of the frontal toll station complex. One traffic lane will be used for traffic.
Traffic from the direction Niš - Belgrade will be diverted via the new constructed terminals of the frontal toll station complex and two traffic lanes will be used.