Sector for Strategy, Designing and Development

 - European corridor map (328kb)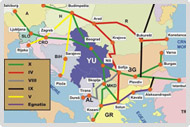 In the Sector for Strategy, Designing and Development, activities of technical preparation, strategic planning, studies, development research, designing, planning documentation, traffic safety, environment protection, preparation and record keeping, are being performed in accordance with the defined scope of activities for relevant Sectors in the Public Enterprise "Roads of Serbia", in addition to administrative-technical activities related to operation of this Sector.
This Sector also participates in realization of the Projects financed by the International financial Institutions and European Funds.
Sector for Strategy, Designing and Development includes the following departments:
Department for Technical Preparation
Department for Strategic Planning, Studies and Development
Department for Designing and Planning Documentation
Department for Traffic Safety
Department for Environment Protection
Sector for strategy, designing and development also deals with the realization of a design process, taking into regard traffic safety and environment protection issues and it represents the first step in optimization of construction, exploitation and maintenance of interurban roads as foundation of total social-economic development.
Timely preparation of planning and technical documentation together with supporting studies represents a main condition for reaching a decision on where and when to build.
General, Preliminary and Main designs for construction, reconstruction, recovery and rehabilitation of public roads of I and II category and structures, necessary pre-feasibility studies, designs for road management and improvement, traffic studies, traffic regulation designs, necessary planning documents, environment impact assessment studies, research-development projects have been successfully realized.
Phone: 011/3040 742
Fax: 011/3040 692
E mail: This email address is being protected from spambots. You need JavaScript enabled to view it.
*All documents for Sector for Strategy, Designing and Development prepared by:
 Chief Engineer for Strategic Planning
 Ivana M. Kostic, B.Sc.(C.E.)