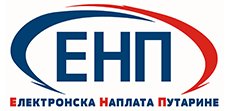 Electronic toll collection-ETC is a modern model for contactless toll payment by using TAG devices for adequate vehicle category. 
ETC enables:
Passage without stopping on earmarked toll lanes
Simplicity of toll payment without waiting and cash payments
Comfortable and safe driving by avoiding possible delays
Drivers who use ETC pass along the toll lane through the toll station without stopping. Transaction is automatic between the TAG device (Transfer Automatic Gadget) located on the interior of the windshield and special short range communication system with antenna installed next to the ETC lane. User of electronic toll collection is obliged to follow the instructions for installation and using TAG device.
On toll stations in the Republic of Serbia, at least one toll lane is dedicated to ETC. PE "Roads of Serbia" reserves the right to perform combined regime of toll collection in case of maximum increase of traffic volume. Electronic toll collection is not present on toll stations: Doljevac selo and Brestovac (section Niš-Leskovac).
Toll stations on which it is not possible to recharge ETC devices: Zmajevo (both directions), Feketić (both directions), Bačka Topola (both directions), Žednik (both directions), Vrbas direction Subotica-Belgrade.
Electronic toll collection can be used by all legal and natural persons who sign the contract with the PE "Roads of Serbia" and buys a TAG device on an authorized point of sale. TAG devices are available in prepaid and postpaid system, as well as in the form of preconfigured TAG packages which are available on certain distribution points.
ТAG devices configured for category I (passenger vehicles) can be transferred and used in any passenger vehicle, regardless of ownership or license plates. For all other categories TAG device is immovable.