Honored media representatives,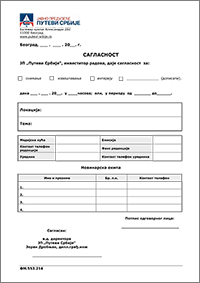 Request for recording and reporting


In order to achieve a faster and a more efficient cooperation with the media houses, the PE "Roads of Serbia" introduced an online procedure for obtaining licenses for recording roads, road structures, toll stations and sites under the jurisdiction of the enterprise.

You can download the form of the Request for recording/reporting by clicking the image below.

The form of the Request for recording/reporting should be filled in and sent to the Department for Public Relations not later than one day before the required recording term at 03.00 PM (requests for recording/reporting on a Saturday or Sunday should be submitted not later than the preceding Friday at 03.00 PM), to the following:

Email: This email address is being protected from spambots. You need JavaScript enabled to view it. or to fax 011/3040 741
Recording/reporting from the required location is possible only after a written approval by the Acting Director of the PE "Roads of Serbia" is obtained.
---
The successful public appearance of the PE "Roads of Serbia" and continuous communication with media, road users, partners, associates and colleagues are the tasks of the Department for Public Relations for ten years now.
Timeliness, objectivity and versatility are key principles we are managed by in our business performances, because modern business could not be imagined without proper organization.
Our task is to inform the public professionally, conscientiously and responsibly through continuous contacts with media, professionals, institutions and other stakeholders.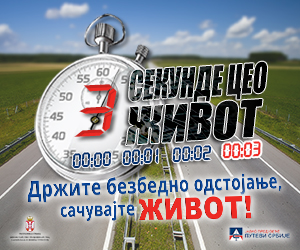 We are issuing public announcements, organizing press conferences and visits to infrastructural projects under construction on the road network of the Republic of Serbia, preparing presentations, professional seminars.

Our most visited press conferences are certainly those attended by the Prime Minister or the President of the Republic of Serbia, ministers, senior officials or representatives of the international financial institutions.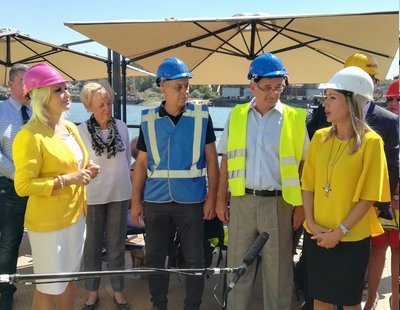 From numerous presentations we've organized so far, we are highlighting the presentation "Road Rehabilitation and Safety Project" in cooperation with the Ministry of Construction, Transport and Infrastructure, World Bank, European Investment Bank and European Bank for Reconstruction and Development. The presentation showed in detail the Project on rehabilitation of 1100 km of Serbian road network during five years' time of planned project duration.

We've organized the First International Scientific and Professional Conference "Modern road maintenance" in 2013, we were engaged in organization of Summit of China and Central and Eastern European Countries in the Serbian capital in 2014, and the Summit of Ministers on Organization for Security and Cooperation in Europe (OSCE) Belgrade in 2015.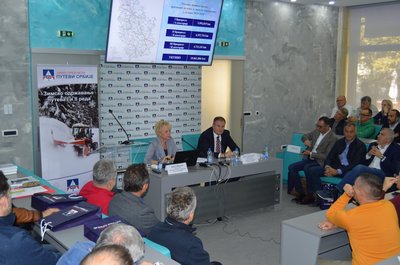 In November of each year, on the occasion of beginning of Winter Service Maintenance of I and II Category state roads in the Republic of Serbia, we successfully organize the Presentation of Winter Maintenance of I and II Category state roads Plan.

The balance of our successful communication with more than 80 print and electronic media, news agencies, internet portals and production companies is more than 1300 answered questions, more then 127 interviews and 150 announcements annually, which result in more than 10,375 press releases concerning our enterprise during the calendar year. As a result of our PR activities, features are published and broadcasted, which makes 50% out of  a total number of published/broadcasted features about the PE "Roads of Serbia".
We have raised our internal communication and cooperation with colleagues from every sector of the Enterprise to the highest level in order to provide adequate responses to every requirement.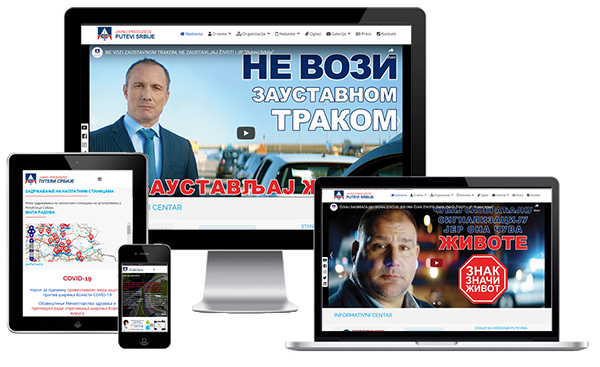 More than 585,000 visits, 1,300,000 viewed pages on the Enterprise's website annually, with a growth tendency each year, are the results of our work. Through technological innovations, regular updating of content management system and daily updating of the content we have managed to improve communication of our Enterprise with all stakeholders.

By introducing the version for mobile platforms, our Enterprise positioned itself among the first public enterprises in Serbia that enabled access to information through mobile phones or tablets regardless of their location, because are imperative is to help users to obtain information in an easier and faster way.

Over the past five years we have created 23 issues of the Newsletter – internal publication of the Enterprise designed to provide information to the employees, business partners, users, media representatives and parties interested in the Enterprise's business activities.
By working together, we have achieved goal set in the first issue – to be informative, useful, comprehensive and interesting.
Our product is also a bilingual brochure with relevant data and photos, created in order to represent in a short and distinctive manner the PE "Roads of Serbia" through competence of individual Sectors of the Enterprise.
In order to provide the public with precise information in course of realization of infrastructural projects which demand long-lasting traffic regime modifications, we are preparing leaflets about traffic management so the users could pass through road routes under construction in an easier and faster way.
Long and successful cooperation with the Road Association of Serbia – "Via-vita" has resulted in proper organization of I and II Road Congress. For years we have also been a part of professional journal "Road and traffic" which presents our Enterprise along with the professional papers of our colleagues.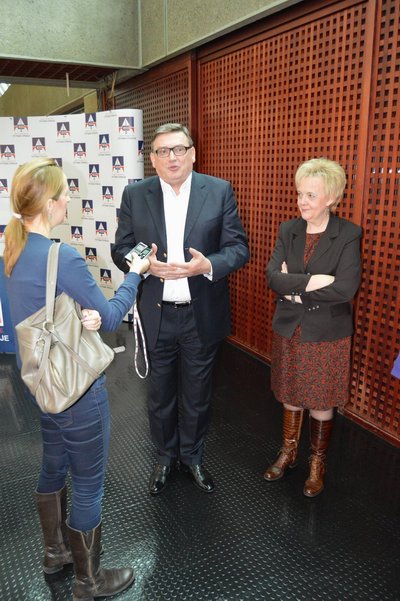 We are continuously informing the management on all aspects of our work which influence media exposure of the Enterprise in public through regular submissions of press clippings and media monitoring, as well as via special announcements and letters reporting about all our activities.

The significant archive of published texts and video clips in which our Enterprise is mentioned is created by daily, twelve-year monitoring of press releases.

Recognizing the importance of large infrastructural projects, we designed and organized monitoring and recording of project realization in phases so that we could leave to future generations the archive of their creation. Approximately 90 video clips and hundreds of photos are recorded annually..
The biggest and most important projects are recorded in our video footages: construction of Belgrade Bypass, new bridge over Danube at Beška, rehabilitation of the Gazela Bridge and motorway section passing through Belgrade. Videos have been prepared for congresses, conferences, manifestations..: Quality Oscar 2017, Modernization of toll stations and rehabilitation of 100 bridges, "50 years of Serbian road industry", "Serbian road network", video footage for II Road Congress 2016.g...
For everyday communication and promotion of the Enterprise we have created numerous representative products and conceived preliminary solutions for preparation of agendas, planners, business cards and roll-up banner stands.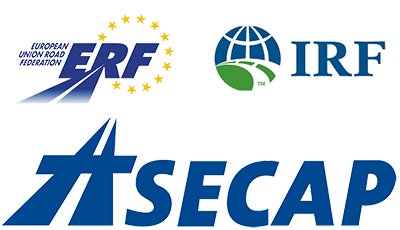 As part of our international activities, we cooperate with European and worldwide associations, administrations and road institutes. Our enterprise is a full member of the European Association of Operators of Toll Road Infrastructure (ASECAP), European Road Federation (ERF) and International Road Federation (IRF). We prepare the National Annual Report on regular basis which is a part of annual National Report of Association member states, we fill out thematic professional questionnaires  about the Enterprise...

"When I close my eyes, I see...", "Dream about travelling", "Santa Clause on Road", "Magical home base of Santa Clause", "My planet", "What do I want" are the themes of children's drawing contests by which we are trying to encourage the youngest to express their talents and creativity. Winners' drawings illustrate desk calendars and New Year's greeting cards of our Enterprise.
We are also engaged in socially responsible activates such as regular voluntary blood donation activities, "Čep za hendikep (Bottle cap for handicap)", where we are positioned among the top ten companies..
High goals, quality and dedicated work, true commitment to business constitute a sure way to achievement of excellent results!