Development of business excellence based on integrated management systems in the PERS experiences its expansion. Multiannual work on upgrading the management system, which started in 2011 on well-established base model, showed that standardization and constant improvements of the management system, with the base principles of excellence model became the primary issue of PERS activities in constant and turbulent surroundings. Integrated management systems in PERS provide full support to stability and development of the enterprise through the strengthening of the strategic management on one hand and operative management on the other. Speed of changes in which organizations do their business activities requires also the establishment of dynamic interaction between strategic and operative management, in addition to defining the strategy and establishment of operative management system. This means that processes resulting from a strategy have to be quickly operative for the provision of a service to the users and to the benefit of all interested parties.
PERS is committed to constant improvement of the quality of its services, to harmonizing all its business activities with applicable legislative requirements on occupational safety and health, to setting the occupational safety and health program and getting engaged for its constant implementation – through design solutions, specifications for the procurement of equipment and materials and methods for project implementation, it incorporates technical and technological solutions which prevent or minimize safety and health risks for people and safety of equipment, identifies, analyses and values the risks in the fields of human safety and health pursuant to the established criteria.
Quality management system and occupational health and safety system in PERS are in the function of constant attempt to meet the requirements, needs and expectations in the field of quality of services, occupational health and safety, both of internal and external interested parties in as complete, efficient, effective and reliable manner.
In order to strengthen business excellence and review the system settings, in the period from 2012 to 2017, PE "Roads of Serbia" applied three times for the national award for business excellence "Quality Oscar" under the auspices of the Fund for Quality Culture and Excellence FQCE and the Chamber of Commerce and Industry of Serbia. In 2014, the Enterprise was awarded in the field Partnership and Resources, while in 2017 it was awarded in three areas: Partnership and Resources, End User Results and Strategy. These awards prove that the PE "Roads of Serbia" constantly works on the development and upgrading of both integrated management systems as well as processes, and it fosters aspects of business excellence.
Successful Beginning of Another IMS Certification Cycle
29. september 2022.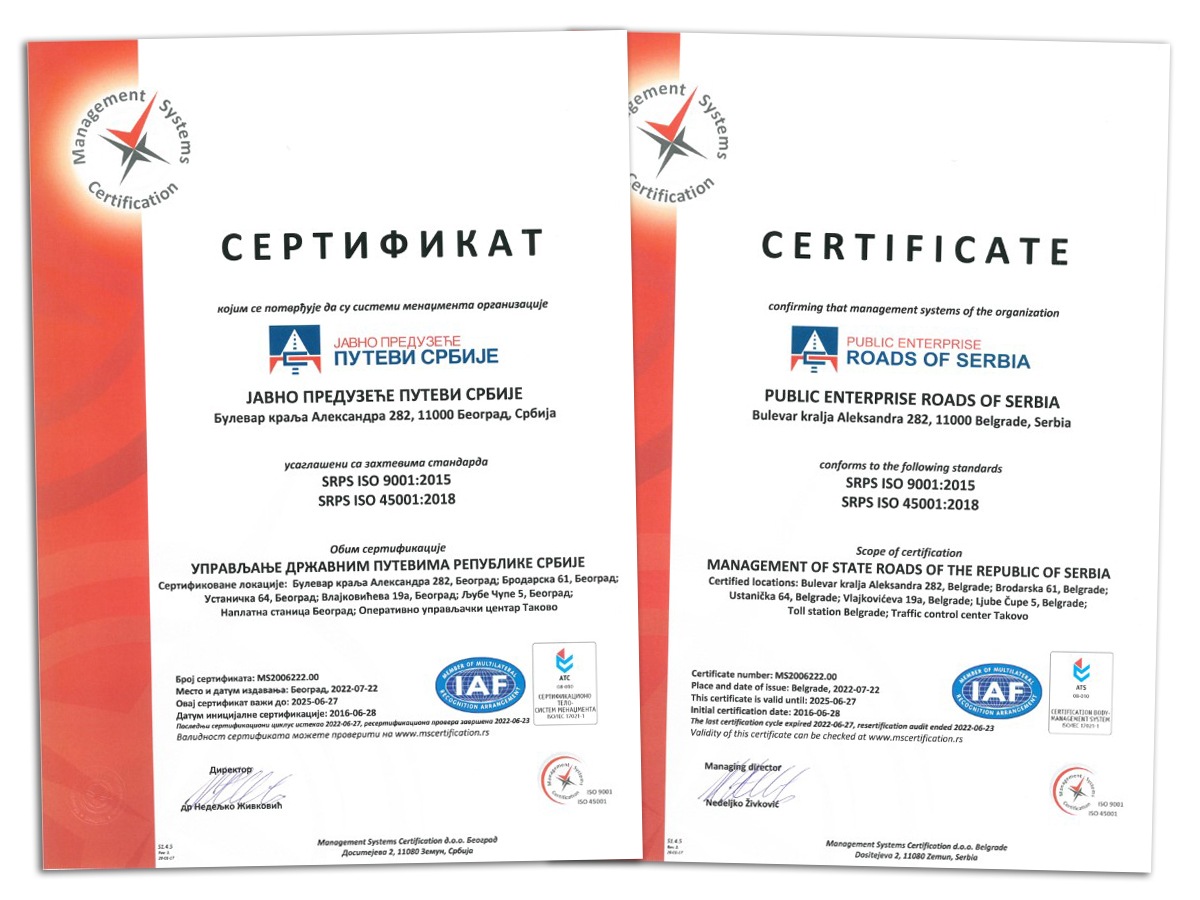 PE "Roads of Serbia" winner of the National Award for Business Excellence - Oscar of 2020, in the public sector category as Champion of Excellence
12 november 2020.